Untacked: Sophia Schults and Conocido HGF, new rising star of the Youth with a PRE.
2022.03.04
The future of dressage is about the new upcoming riders. The youth and PRE are a combination that never fades away. The future for the youth is very encouraging and promising: their great technique, great professionalism, but above all and most importantly, their passion, is the key for the success.
Today we focus on a rider whose ridings skills, performances, and dedication with her P.R.E are worth to be acknowledged: Sophia Schults and Conocido HGF.
At just 21 years of age, Sofia is not a newcomer in the dressage scene. She has regularly attended competitions over the years in Florida during the winter season, from its early beginnings at Global show grounds and more recently in Ocala, Florida. Originally from Michigan, Sophia prepared herself to become a professional rider. Started as a hobby rider and transformed herself to professional rider for Hampton Green Farms. Her preliminaries in the horse world date back to her early ages. At just 3 years old Sophia was very attracted to horses, and since then, she was hooked and never looked back.
Over the years, her different trainers, the attendance to the WIT Program and her riding career at Hampton Green Farm have allowed her to become a very distinguished rider.
Thanks to her barn manager in Michigan, Sophia found out about Lendon's clinic, and in the summer of 2014, she decided to take her horse there and having a wonderful experience. She met Kimberly Van Kampen and stayed in touch. The following Wellington season she did the Dressage 4 Kids program and an internship with George Williams. Her horse "Sandro" got injured and went back to Michigan leaving her needing a mount for the three back-to-back shows in Fruitport. She reached out Kim letting her know that she wanted to do the Lendon's clinic, and she borrowed Idolo Americano. A new successful combination was born.
Sophia became an HGF rider in 2016, and Idolo Americano was her companion. Highlights of this combination include being in the top six nationally at Festival of Champions in 2018. She now develops the training of younger prospects, including outstanding PRE horses from HGF —as well as her own Conocido HGF.
Conocido HGF is her own gem. She bought him in the summer of 2016. Over the years, Sophia has been responsible of his training and guidance through the different levels.
"I was fifteen when I got him and we had our moments. I can't regret anything. My journey with him has been a rollercoaster with ups and downs, but above all, he has taught me a lot. At the beginning, he was super spooky, unpredictable. We've been through a lot and that is why actually we have such a strong partnership. Last year everything clicked: he settled down mentally and now we can go through a test without worrying about the external factors".
Icing on the cake
2022, new year and new season. Sophia is clear about it, and she wants to fight. This year she has a goal set with her own Conocido HGF and is to be the most competitive as possible and getting into the race for the Young Rider European Tour.
In January back in Ocala, she tested the waters at the YR level (her last year in it) at a national show and her results were outstanding with two scores near the 70%
Last week, Sophia went back on track to the international arena. Her CDI debut was captivating. Sophia presented for the first time the horse and came back with a blue ribbon in the YR individual and a red one (second place) in the YR Team Test.
Competing this last weekend at Global was surreal. Everything that we have been working hard towards is beginning to pay dividends, and moments like we had in the show ring last weekend make the tough times worth it. Developing Conocido into what he is today has been one of my greatest challenges, but working with such an intelligent and talented horse makes every ride special and I cannot wait to continue our training together.
Sophia just has words of praise about her horse. She describes her companion as a very sweet horse, being the pirouettes his highlight. He is super consistent in the trot tour and is really quiet and harmonious.
In a competitive circuit of warmblood horses, Sophia rides PREs. The purebred Spanish horse is an extremely versatile mount. It's noble personality and big heart are the traits that make the PRE ideal for the youth. Sophia has ridden warmbloods and PREs, and the latter ones are for her very special "You need to be mindful when you ride PRE, they are very sensitive in the back and really aware of the rider, you have to be very careful. You can't get on and push them right away ".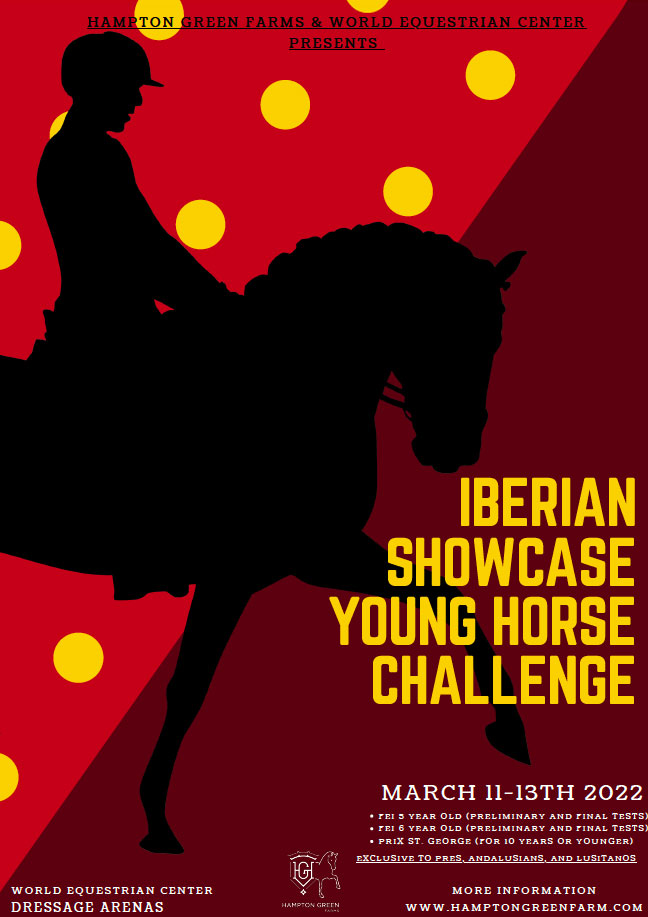 Hampton Green farm - Sponsored Program