May1st.
A phenomenal week of International equestrian competition concluded on Sunday, April 16th at WEC. Emotions had run high last weekend for HGF TEAM , we are still on a cloud nine.
Justine and Campanero HGF started the week closing the podium on CDI Juniors Team Test with a personal best of 66.313. On Sunday , she collected the title of Freestyle Winner with an overall score of 73.067%. She chose her signature Moana's music with an exciting choreography to make her freestyle stand out. We are over the moon with these results. In a space of three/four months, Justine and Campanero have climbed and in their five international outings, three of them have been victories.
Last but not least, Kerrigan and Mejorano HGF have been unstoppable this winter season. The Kick-Off of the CDI3* Ocala was excellent with third place of Kerrigan Gluch and Mejorano HGF on THE GP Qual. for GPFS (67.913%). The icing on the cake came on Friday Under The Lights during the Freestyles. This duo danced to the Spanish melodies of "La Mancha" and after the first extended trot, the shouts and ovations sprung from the bleachers.
"We did that on purpose for the Freestyle to start strong, and I think it helped us," revealed Gluch. "In a way, [the crowd support] takes the stress away a little bit. Not that you want to be distracted, but the crowd likes this, so I get to enjoy it even more than I already am. It makes me relax a bit. I like the feedback.""I really wanted to go show him off," said Kerrigan of the 12-year-old PRE gelding by Grandioso x Galan XVI owned by Hampton Green Farm. "I always put a little pressure on myself to do the best I can, but I try not to put that on him. I think I was able to do that tonight, which led to a good score and good test. I think I rode well, and he performed really well."
As the crowd favorite of the night, Kerrigan Gluch Mejorano HGF closed the podium with a personal best score of 74.755%
HGF keeps bringing excellence in Dressage. Special thank you to all the team, but most of all to Maria Lithander for being our backbone and outstanding trainer.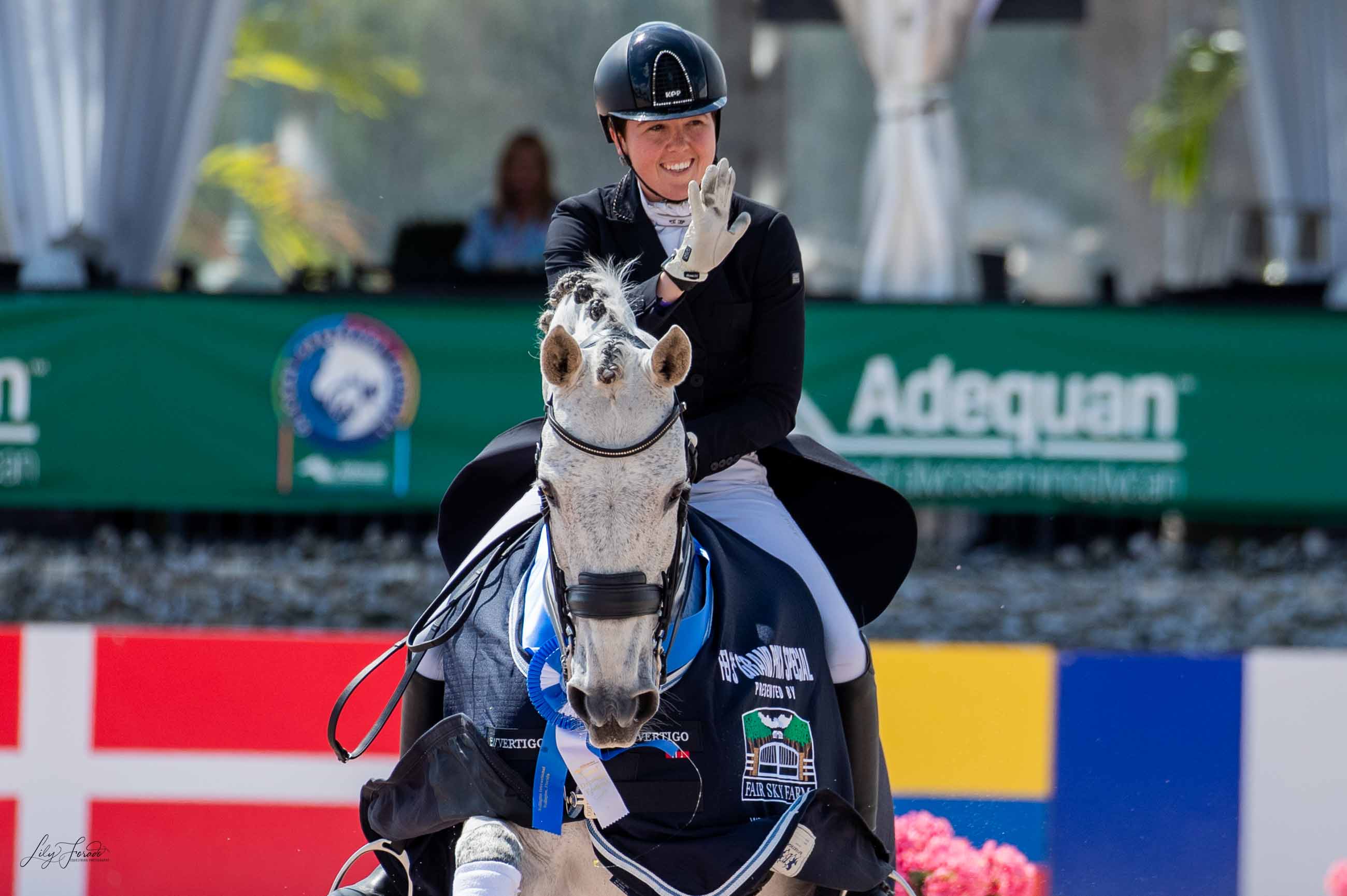 Hampton Green farm - Sponsored Program