2018 started the year with numerous events at or involving Hampton Green Farm. During the first week of the year, the Robert Dover Horsemastership clinic took over the farm for one day utilizing all three arenas. Meanwhile, Lendon Gray and her WITees completed their move-in week and began the intensive training for which the program is named. Vanessa Voltman and Albert Gesierich's horses and clients started their winter season, having just arrived from Michigan. The final few horses arrived to the main barn, with every stall occupied on the property.
Dani Martin and Charlotte Bredahl were on hand in January to work with all of the HGF pairs and prepare them for their warm-up classes in the national levels. Maria Lithander rode several Inter I classes with Barbara, and will now focus on the short Grand Prix with the assistance of Charlotte. Kerrigan Gluch showed all her horses at the national levels in the respective levels, Brio and Bolero at the U25 Grand Prix, and Vaquero at Inter I, followed by his first time at Inter A. Sarah Roda introduced Quintanillo to Fourth Level, in preparation for Young Riders. All pairs scored in the mid to upper 60s, and all horses demonstrated that they were prepared for new levels.[nbsp]
Lily Forado, our marketing intern, arrived just in time to start the promotion for USPRE Week. This year's USPRE Party was the biggest ever in terms of turn-out. Over 1000 people came to a standing-room-only event filling both of the VIP tents of the Global Pavilion. One of the highlights of a very animated program was when four HGF geldings did a quadrille in costume with youth riders Kerrigan Gluch, Sarah Roda, Sophia Schults and Elena Schiefe--a performance which will be repeated at the Challenge of the Americas in March. Many VIPs from Spain and around the country attended USPRE week, and more than 30 PREs performed at the USPRE Party, from exhibitions to FEI freestyles. Later that week, Kerrigan rode Bolero in a master class with Andreas Helgstrand during the Friday night CDIW Freestyles, and later on Spanish Young Horse Champion Guillermo Ayala rode Diego (Didacus) in a seminar with Spanish team osteopath Antonio Valenzuela. The week concluded with a round table discussion featuring ANCCE officials and an FEI 4* judge discussing the PRE role in the upcoming World Championship of Young Horses.
January closed with a quiet few days, for some well-needed rest before February's clinics and shows.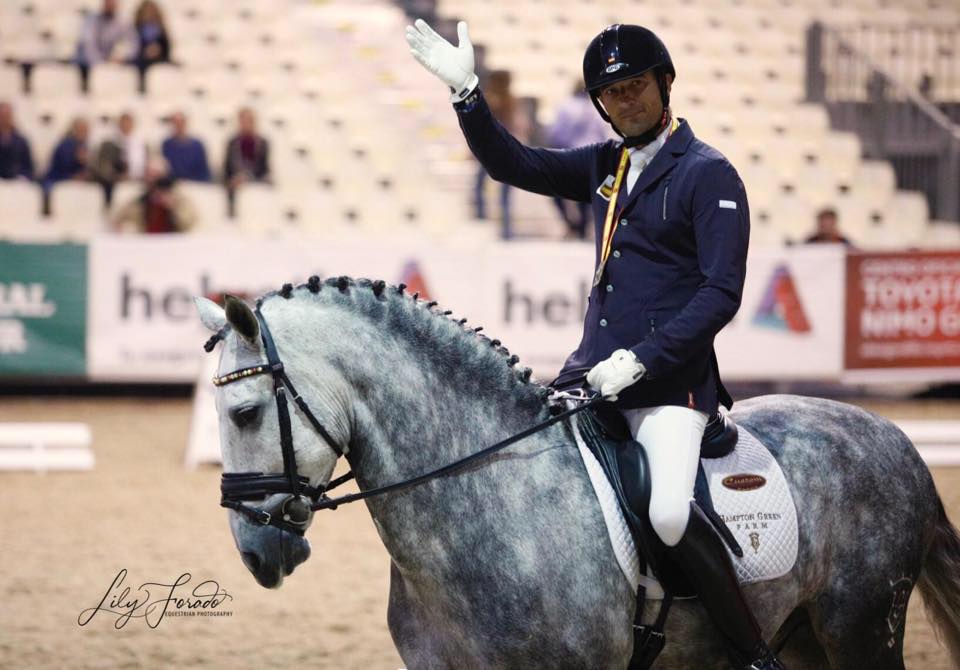 Hampton Green farm - Sponsored Program